Testosterone Replacement Therapy also known as low testosterone therapy is a medically proven therapy that helps adult men compensate the low production of testosterone which plays an important role in sperm production, fat distribution, maintenance of muscle strength, and sex drive.
TRT Therapy includes many benefits, the most commonly reported are improvement in energy levels, sex drive, and quality of erections, increased bone density, muscle mass, and insulin sensitivity in some men, improvement in mood changes, firm skin, and concentration. 
Other biodentical hormone replacement therapies at our Tijuana, Mexico clinic include, adult HGH therapy, Progesterone Replacement Therapy PRT, and Estrogen Replacement Therapy ERT.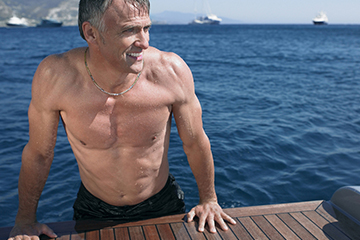 Who needs testosterone replacement therapy?
In modern society, it is no longer uncommon for adult males to be deficient in key hormones. Most of this is due to environmental factors such as diet, endocrine mimickers in the food supply such as BPA, and other toxins we can encounter, without even thinking about it or knowing it. Testosterone replacement therapy is aimed for adult men who have reduced testosterone production. Low testosterone may contribute to a decrease in personal motivation or self-confidence, including depression or having trouble concentrating or remembering things.

Is low testosterone therapy right for me?
Symptoms of low testosterone production levels are mainly associated with change in sexual function including fewer spontaneous erections and low sex drive. Physical disturbances during sleep such as insomnia, increased body fat, reduced muscle bulk and strength, hair loss and less energy.
Russald Medical
Testosterone Replacement Therapy
Therapy in Mexico cost is

$500

* USD
Price does not include laboratory blood panel testing needed
Russald Medical

Testosterone Replacement Therapy
Therapy in Mexico
cost is

$500

* USD
To receive Testosterone Replacement Therapy (TRT), patients need to undergo medical analysis to determine health condition including the current levels of testosterone hormone production to determine the correct dosage needed for their treatment.
At HGH Mexico, we use clinically approved Testosterone in Mexico, produced by our specialized compounding pharmacies. Starting from the undergoing lab tests the dosage is determined and prescription indicates which therapy treatment works best according to patient needs. There are three ministered systems for testosterone replacement therapy, such as testosterone cream, injections, and testosterone pellets. Of the three, pellets are usually the best and preferred by our patients.